The
New England Law Review
offers its issues in convenient digital formats for e-reader devices, apps, pads, and phones. This first issue of Volume 51 (2017) features an extensive and important Symposium, "Behavioral Legal Ethics," with contributions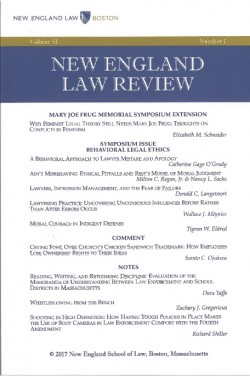 by Catherine Gage O'Grady, Milton C. Regan, Jr. & Nancy L. Sachs, Donald C. Langevoort, Tigran W. Eldred, and Wallace J. Mlyniec. The issue also includes an essay by Elizabeth M. Schneider, "Why Feminist Legal Theory Still Needs Mary Joe Frug: Thoughts on Conflicts in Feminism," in honor of the late Professor Frug. In addition, extensive student research examines Church's chicken sandwich trademark, whistleblowing from the bench, rethinking student discipline in Massachusetts schools, and police use of body cameras under the Fourth Amendment.
…
Available in leading digital formats:
Kindle, at Amazon.
Nook, at Barnes & Noble.
Apple iBooks and iTunes: see it on iPad and iPhone; previewed online.
At Google Play and Google Books.
Also in universal ePUB format at Smashwords; and look for it at Kobobooks, Axis360, Scribd, and related sites.
Cataloging: Volume 51, Number 1 (Wint. 2017):
ISBN 9781610277761 (ePUB)
ASIN B071JP2G9C (Kindle)
List price: US $0.99 (ebook)
Page count: 213 pp.
Published: June 6, 2017