The November issue is the special annual review of the U.S. Supreme Court's previous Term. Each year, the Supreme Court issue is introduced by noteworthy and extensive contributions from recognized scholars. In this issue, for the 2016 Term, articles include:
• Foreword: "1930s Redux: The Administrative State Under Siege," by Gillian E. Metzger
• Essay: "Unprecedented? Judicial Confirmation Battles and the Search for a Usable Past," by Josh Chafetz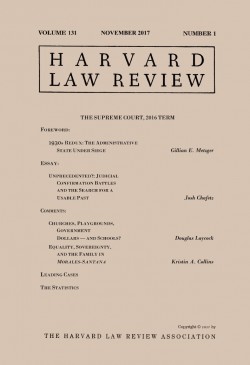 • Comment: "Churches, Playgrounds, Government Dollars—and Schools?," by Douglas Laycock
• Comment: "Equality, Sovereignty, and the Family in Morales-Santana," by Kristin A. Collins
In addition, the first issue of each new volume provides an extensive summary of the important cases of the previous Supreme Court docket, covering a wide range of legal, political, and constitutional subjects. Student commentary is thus provided on eighteen of the Leading Cases of the 2016 Term, including such subjects as racial gerrymandering, freedom of speech, regulatory takings, right to effective counsel, equal protection, appellate jurisdiction, fair housing, immigration law, insider trading, venue in patent cases, offensive trademarks, and remedies for constitutional violations.
Complete statistical graphs and tables of the Court's actions and results during the Term are included; these summaries and statistics, including voting patterns of individual Justices, have long been considered very useful to scholars of the Court in law and political science. Finally, the issue includes a linked Index of Cases and citations for the discussed opinions.
The Harvard Law Review is offered in a quality digital edition, featuring active Contents, linked footnotes, active URLs, legible tables, and proper ebook and Bluebook formatting.
. . .
Available in all leading eBook formats:
Amazon for Kindle.
Barnes & Noble for Nook.
Google for Play, as well as Google Books.
Apple iTunes and iBooks, found direct on the iPad and iPhone (preview).
And in ePUB format at Smashwords; look for it, too, at such eBook sites as Kobobooks for the Kobo Reader, Axis360, and Scribd.
…
Cataloging Volume 131, Number 1:
ISBN:  9781610277723 (ePUB)
ASIN:  B0778CHB4X (Kindle)
Page count: 424 pp.; list price: US $3.99
Released and available: Nov. 8, 2017