The special Bicentennial Issue, Number 9, features these Essays as its contents:
• "Marking 200 Years of Legal Education: Traditions of Change, Reasoned Debate, and Finding Differences and Commonalities," by Martha Minow
• "Race Liberalism and the Deradicalization of Racial Reform," by Kimberlé Williams Crenshaw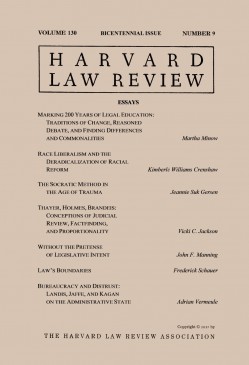 • "The Socratic Method in the Age of Trauma," by Jeannie Suk Gersen
• "Thayer, Holmes, Brandeis: Conceptions of Judicial Review, Factfinding, and Proportionality," by Vicki C. Jackson
• "Without the Pretense of Legislative Intent," by John F. Manning
• "Law's Boundaries," by Frederick Schauer
• "Bureaucracy and Distrust: Landis, Jaffe, and Kagan on the Administrative State," by Adrian Vermeule
The issue also includes a comprehensive Index for all nine issues of volume 130.
. . .
Available in all leading eBook formats:
And in ePUB format at Smashwords; look for it, too, at such eBook sites as Kobobooks for the Kobo Reader, Axis360, and Scribd.
…
Cataloging Volume 130, Number 9:
ISBN:  9781610277709 (ePUB)
ASIN:  B0773RNZT1 (Kindle)
Page count: 228 pp.; list price: US $3.99
Released and available: Nov. 1, 2017