Susan Neiman went to learn more about morality and reason, which she did, but she also came to terms with being Jewish in a city that did not always welcome her, as if her presence was a guilty reminder. (Or they did not know she was Jewish and said some amazing stuff.) This memoir–through the Reagan years ex-pat, till the fall of the Wall–is resonant, funny, and sometimes surreal. It's the debut work, first published by Schocken/Random House, from the author of Moral Clarity, one of "2008's Notable Books" by the New York Times.  Available as new paperback and ebook formats.
At that time a post-doc fellow at the Free University of Berlin studying Kant and the Enlightenment, with her Ph.D. in philosophy from Harvard, Dr. Neiman has since taught at Yale and Tel Aviv University. She is now the Director of the Einstein Forum in Potsdam, Germany.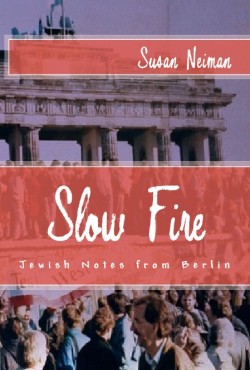 Ebook seen at Amazon Kindle store for its reader and apps (and look for it at the Amazon UK or DE stores for Kindle in the UK and Germany).
Available at Barnes & Noble for Nook. Also found at Google Books, and Google Play for Nexus and the Play app; and at Kobobooks.
At Apple iTunes and iBooks bookstores for the iPad and iPhone.
At Smashwords in eight digital or ebook formats, including PDF, online viewing, rtf, Sony, and ePub.
PAPERBACK

:  New

print edition

, available from Amazon, at our own estore page, and look for it at Barnes & Noble and other retail sites. (And available here.)  Presented in modern and updated print format, very readable and affordable.
Earlier reviews for the book include:
From Library Journal
In 1982, philosophy student Neiman set off for Berlin to study at the Free University. This entertaining memoir, strongly colored by the author's inquiring mind, bohemian inclinations, and Jewish background, recounts her six-year stay in the formerly divided city. Somewhat misleadingly titled, Neiman's reminiscences are not strictly limited to Jewish questions; rather her scope encompasses a wide range of Berlin-related subjects from life in the East to the byzantine characters that keep popping up. Of the many personal accounts of Berlin that have appeared in recent years (John Borneman's After the Wall and Hsi-Huey Liang's Berlin Before the Wall , both LJ 2/15/91; Robert Darnton's Berlin Journal, 1989-1990 , LJ 5/1/91), this is one of the liveliest and most captivating. However, it remains to be seen whether a unified Berlin will continue to provide such enthralling material for talented writers.–Ian Wallace, Agriculture Canada Lib., St., Jean-sur-Richelieu, Quebec
Copyright 1992 Reed Business Information, Inc.
From Kirkus Reviews
Vergangenheitsverarbeitung is one of those post-WW II German coinages that admit defeat by their very existence. It means "coming to terms with the past." Neiman's fine memoir of six years in Berlin, 1982-88, explores German attempts to face up to, or hide from (or both), the Nazi years. This is a rich broth of a book, full of sharply drawn characters, lively vignettes, verbatim barroom conversations, a journal kept with intellect and sympathy. If life is no longer a cabaret, at least it's a Kneipe, a rock-bottom, working-class or student hangout: Neiman (Philosophy/Yale) describes dozens of them. Her account is a last, loving look at the divided city, the Wall, the East Germans shut up behind it, the West Germans living their subsidized, claustrophobic, hothouse life of radical ease and experiment. It's an earnest autobiography, as Neiman, an American Jew, comes to terms with the past by staking a claim on the future. She marries a German Jew, they have a son, and decide to raise him in the traditions and perhaps even the faith they both have neglected. Neiman squeezes every nuance of meaning and paradox and irony out of her life as a student, teacher, political activist, lover. When a German painter boyfriend tells her, "Every time I see you, I think of Dachau, baby," she knows it's the beginning of the end for them. The combination of lofty sources–Neiman knows Nietzsche and Kant–and gritty detail is unusual and appealing. The only flaw here is a tendency, common in Americans, to write about Germany as if nothing happened there before 1933. (And a mention, now and then, of the wider European context wouldn't have hurt.) But the narrow personal focus gives the memoir its punch. And Neiman's strong sense of humor mostly keeps her righteous anger from sounding smug. Finally, her Berlin 80's, materially shabby, spiritually rich, make us wish–as she intends–that we'd spent the decade differently over here. — Copyright 1992, Kirkus.
CATALOGING:
ISBN: 9781610270311 (pbk.), list price: $15.95
ISBN: 9781610270304 (eBook), list price: $6.99