The epic poem of the fall of Troy, the heroic journey, battles and loves of Aeneas, and the founding of Rome, by the great Latin poet Virgil — as translated, condensed, and explained to modern readers by a professor who uses rhyme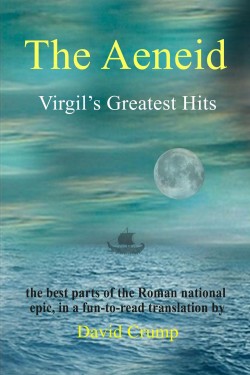 and a lively presentation to honor the spirit and true intent of Virgil — without the customary literalism of previous translations.
Epic in every way, this is one of the greatest and most entertaining adventure stories ever told. Millions have read and enjoyed it since Virgil first wrote it in the First Century B.C.
But The Aeneid has never been presented like this before. It is now condensed to its essential and best parts, with short bridge notes to explain the third or so of the original that is omitted. Explanatory sidenotes and chapter guides place the work and its famous author in historical, thematic, and political context.
Most of all, David Crump has translated The Aeneid for the modern ear, complete with the rhythms and rhymes associated with poetry today. Avoiding the stodgy literalism of previous translations, he incorporates the true meaning of each turn and phrase — using the words most accurately registering today for Virgil's work, all to bring the epic to life for a new generation. It will be enjoyed by readers who aren't necessarily Latin scholars.
The new ebook editions use an innovative approach to linking short annotations of key words, names, and places. Instead of footnotes and numbers, the underlined words are coded to jump to the asides much like a webpage or Wikipedia would. Notes stay out of the way for readers who prefer the poem as it is, while explanations and trivia are a mere click or touch away for interested readers and of course students. Modern and clear formatting makes it a work accessible in digital form without the odd spacing and stuffy footnotes often found in such ebooks of classics. Not just dumped into an ebook jacket from book form, this ebook was constructed with care. The paperback presents side notes along the margins and mirroring the body, again avoiding the use of distracting footnotes.  See how this is done by using the Look Inside! function at Amazon.  Great for classes, book clubs, and casual readers.
This book is simply fun, and at long last easy to understand and feel the sheer power of Aeneas's epic journey and destiny. Fate has decreed it.
IN PRINT: Paperback available at our eStore page at Amazon, and at the general Amazon site and other retailers (such as B&N and BAM!).  Contact us for bulk sales and teacher review copies.
Hardcover also available, in library-quality binding. Find it linked to the Amazon.com page for this book, at Barnes & Noble and other retailers, and also ordered direct from the Ingram or  Baker & Taylor catalogs. YBP Library Services is also a great source for this title.
IN DIGITAL FORMATS:
Kindle edition available at Amazon, and also on apps for iPad, PC, Mac, BlackBerry, and Android slates. (UK edition at the UK Kindle store, too.)
NookBook available at the Barnes & Noble Nook store.
Apple iBooks version available from Apple iTunes or iBooks, as previewed online.
Other ebook versions: See it in ePUB format at Smashwords; and look for it at Kobobooks and Diesel e-books.
Now also a Google Play ebook, as with all of our titles, and more generally at Google Books.
EARLY REVIEWS include:
"I really, really like it. It's extremely vivid and readable and exciting, really fun to read. The supplemental material is great, just the right level." – Casey Dué-Hackney, Center for Hellenic Studies, Harvard University
"If you have never had an interest in the classics, this may inspire it. The author gives context and accessibility to the previously obscure and inaccessible." – Paul R. Rice, Professor and Poet, American University
"The informal and appealing style with helpful (and occasionally tongue-in-cheek) notes will make it an accessible introduction to ancient Rome's greatest epic poem." – Paul A. Zoch, Veteran High School Latin Teacher, St. Agnes Academy; Author of Ancient Rome: An Introductory History
"David Crump's translation is smooth, refreshing, engaging and definitely very approachable for students. They will love to have notes, comments, and the background necessary to understand what is happening right there on the page as they read!" – Francesca Behr, Latin Professor, University of Houston
ABOUT THE AUTHORS:
Virgil (or Publius Vergilius Maro) wrote The Aeneid in the First Century B.C. He became one of the most famous and revered classical writers, as much for this great epic poem as for his other works. Just before he died in 19 B.C., Virgil demanded that the work be burned, but luckily it survived the author's perfectionism.

David Crump grew up partly in Italy, partly in Texas. As a teenager, he took classes that involved translating Latin into Italian. He earned his degrees at Harvard College and the University of Texas. Today, he is a professor of law at the University of Houston, and his teaching books are used at many universities. He is also the author of two novels and two books of poetry.  He is shown right.
CATALOGING:
Paperback edition's ISBN: 9781610279932
Hardcover ISBN: 9781610279802