For a new generation of readers interested in the-much debated idea that law includes tools for its own departures.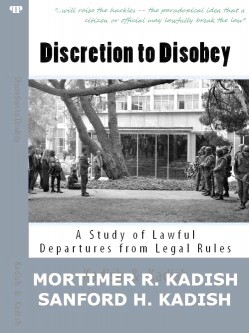 (Sometimes you just have to break the law to truly honor it.)
Read more about Mortimer Kadish and Sanford Kadish, Discretion to Disobey, on its feature page, with details and reader reviews.
Buying information from Amazon is here. If the Amazon format or one of the Kindle apps for other devices does not work for you, we have now published it to Smashwords (ePub, PDF, .rtf, Sony and Javascript formats) too. For the Sony Reader, you can buy it at Smashwords and also at the Sony ebookstore directly.
NOW AVAILABLE AS A QUALITY PAPERBACK from our e-store page and from Amazon, here.
See it also at Barnes & Noble for Nook, Apple's iBooks on iTunes (direct from your iPad, or use the Nook or Kindle apps to read it on iPad), Kobobooks, the Diesel Bookstore, and other sites.
In the UK, find it for Kindle with all our titles at the Amazon UK store.
To propose your own classic of law, legal history, or law & society, for example digitally reproducing an established work to which you own the digital rights (or all rights through reversion), contact us and make it happen.  We do all the work and offer high royalties.
CATALOGING:
ISBN 9781452836287 (paperback)
ISBN 9781610279994 (multiformats eBook)
ISBN 9781610279567 (ePUB)