The only correct and properly formatted ebook version of Wilson's classic and frank study of how the U.S. government works from inside Congress and what role that creates for Presidents and others in the system. Takes seriously the legislative branch at a time when most political scientists saw the President as some sort of politically dominant force (before Wilson himself attempted that role). In print and ebooks, linked below.
Previous digital versions of this book were not properly proofread or presented as a true ebook. This edition includes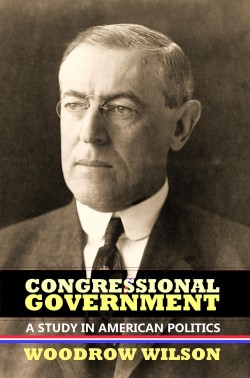 fully-linked footnotes, active Contents, and a new Foreword by Steven Alan Childress of Tulane, as well as the introductory description that Walter Lippmann wrote for later editions. Compared against two published versions of the book for hyper-accurate rendition of the text.
The acclaimed 1885 study of U.S. government and comparison to parliamentary systems in France and, especially, England. "The Constitution is not honored by blind worship," Wilson wrote. Congressional Government: A Study in American Politics was originally Wilson's dissertation written for the Ph.D. degree, and his first book. In it, he analyzed the difficulties arising from the separation of the legislative and executive powers in the U.S. Constitution, during an era in which — as seen clearly on hindsight —  the country was experiencing an atypical series of weak executives. The book is considered to be an excellent work of political and constitutional scholarship. It is still widely read today and assigned to courses in politics and history.
Woodrow Wilson was destined to be professor and president of Princeton, Governor of New Jersey, President of the U.S., and the 1919 Nobel Peace Prize recipient.

Congressional Government: A Study in American Politics is available in digital formats and print:
Amazon for Kindle.
Barnes & Noble for Nook.
Amazon UK Store for Kindle.
At the Apple iTunes bookstore and iBooks.
AVAILABLE in new, modern paperback edition.  See it at its eStore page (fulfillment by Amazon), and at the general Amazon site.
ISBN-13 9781610270755 (Kindle edition)
Also available in the Series and by Woodrow Wilson, in ebook and paperback formats: The State and Federal Governments of the United States. And his 1908 book, Constitutional Government in the United States.