Woodrow Wilson's 1908 classic Constitutional Government in the United States is a well-written argument for looking at the Constitution as enabling reforms and progressive changes to how people govern themselves rather than as a civic straightjacket. It is timely today as judges and politicians debate the Framers' original intent versus the promise and problems of a Living Constitution. It was timely then as it foreshadowed his own strong presidency and progressive reforms. In ebook formats linked below, and in new paperback.
Wilson's classic study and re-thinking of government in states and federal organizations such as Congress, the courts, executive agencies, and the presidency — just a few years before he gained that office. While President of Princeton and a professor in political science, Wilson revisited some of his theories from prior books and delivered this life's work on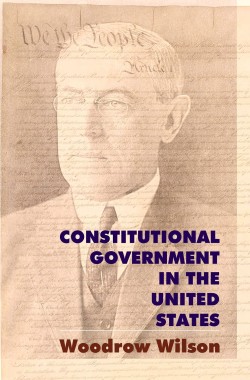 the subject. It is still read and considered thoughtfully by history buffs, political science students, and constitutional lawyers.
"American history is punctuated with treatises that mark a shift in political thought and influence the role of government. These treatises, influential both in their day as well as to modern scholarship, are central to an understanding of the development of modern political behavior. Constitutional Government in the United States is certainly one such treatise. Written as a series of lectures just over a century ago, this book proposed a dramatic shift in the American perception of the role of the Constitution, as well as presenting a thoughtful exposition on the three branches of United States government. Wilson endorsed the theory that the Constitution is evolutional, Darwinian even — and his organic theory is still fervently debated among jurists, economists, and political theorists." — From the new Foreword by Michele Veade.
Features new introduction with historical context and biographical summary, modern formatting, and hyper-accurate care in rendering the author's text, unlike most such republications today. Another unique feature: page numbers from the original 1908 text are inserted into the text, allowing continuity of referencing and syllabi. This permits the included and extensive subject-matter Index, from the original book, to make sense.
Woodrow Wilson was destined to be a successful and reformist president of Princeton, briefly Governor of New Jersey, the 28th President of the United States during World War I, and the 1919 Nobel Peace Prize recipient.
Available immediately:
Amazon for Kindle.  (And Amazon UK Store for the Kindle.)
Barnes & Noble for Nook.
Also available from Apple. Look for it directly at the Apple iTunes bookstore.
PAPERBACK: Look for it in our eStore (fulfilled by Amazon) and on the general Amazon site, plus other retailers. Contact us for bulk discounts and classroom adoptions.
ISBN-10 1610270789 (Kindle)
ISBN-13 9781610270786  (Kindle)
ISBN-10 1610270797 (ePub)
ISBN-13 9781610270793 (ePub)
Also available in the Series and by Woodrow Wilson:
The State and Federal Governments of the United States