One of the leading IP law journals in the world presents it second special symposium issue to go ebook (the 2010 issue, available as well, centered on the "green" movement and its intellectual property law issues). This current edition of John Marshall RIPL is the new 2011 Special Issue, with seven cutting-edge articles from recognized lawyers and scholars of IP law and biotech/health sciences. In ebook formats at sites below.
Each spring, RIPL produces a symposium law review issue. In this important contribution, RIPL presents very current articles on emerging biotech rese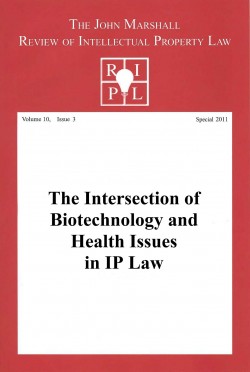 arch and industries, and their promotion through IP law, including patents and trademarks. Topics include encouraging biotech innovation through patent protection, the risks and advantages of DIY scientists, plain packaging of tobacco, research funding of small projects, the materiality doctrine for inequitable conduct, patenting genetic materials, EU law on patent infringement, and health care reform's effect on drug research.
The volume is also useful and accessible to non-lawyers interested in these issues and the way they are affected by legal and policy decisions.
Amazon for Kindle.
Barnes & Noble for Nook.
Amazon UK store for Kindle, for UK users.
At Google eBooks and at Google Play.
At Apple iTunes Bookstore. Look for it directly in iTunes and iBooks on iPad or iPhone.
Also found in ePUB format at Smashwords. And look for it at Sony Reader ebookstore, Diesel e-books, and Kobobooks, as well as other book retail sites.
…
CATALOGING:
ISBN  9781610270762 (eBook)