Current important events in the U.S. legal profession and legal ethics, with useful research and analysis of the rules and the profession's current status, are explored by Tulane law students from an advanced ethics seminar. The collection is edited by Tulane law professor Steven Alan Childress, and he previews in his Foreword the students' explorations into the big stories of 2011.
Purchase of this book benefits Tulane's Public Interest Law Foundation, a nonprofit student group that funds public interest placements and indigent client representations throughout the country.
The timely topics include: false guilty pleas, ethical considerations in making the client's files into a digital record, the capital defense of Jared Lee Loughner, Justice Scalia's seminar sponsored by conservative congressmembers and the Tea Party, sensitivity to "cultural competence," pros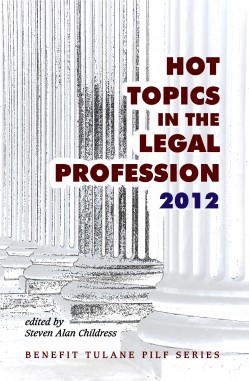 ecutorial relationships with key witnesses, bar discipline for behavior outside the practice of law, legal outsourcing and competition, the dilemma of student debt in a slowed legal economy, the practice of law by legal websites like LegalZoom, negotiation ethics, hybridized MDL settlements, and the advocate-witness rule.
The volume's authors are law students from Tulane University who participated in an Advanced Professional Responsibility seminar and wrote research papers on the subject of ethics and the legal profession. (Nonetheless, their topics, opinions, and writing–not bogged down with heavy jargon–are accessible to a wide audience interested in the state of the profession, and not just lawyers, professors, or law students.)  Its predecessor volume, Hot Topics in the Legal Profession 2010, is also available.
In print (256 pages) and eBook formats at leading booksellers, including:
New paperback edition available at our QP eStore page (fulfilled securely by Amazon); at the general Amazon site; and at other retailers such as B&N online. Libraries may also order from the YBP Library Services catalog.
eBook editions:
Amazon for Kindle.
Barnes & Noble for Nook.
Also at Apple iBooks and iTunes bookstores, direct on iPad and iPhone (or use Kindle or Nook apps).
Cataloging:
ISBN: 1610271106 (pbk)
ISBN-13: 9781610271103 (pbk)
ISBN: 1610271114 (ePub)
ISBN-13: 9781610271110 (ePub)