One of the leading IP law journals in the world presents it third special symposium issue as an ebook (e.g., the 2010 issue, available as well, centered on the "green" movement and its intellectual property law issues). This current edition of John Marshall RIPL is the new 2012 Special Issue, with seven cutting-edge articles from recognized lawyers and scholars of IP law and China and Hong Kong. In leading ebook formats at sites below.
Each spring, RIPL produces a symposium law review issue. The symposium on APPLICATIONS OF INTELLECTUAL PROPERTY LAW IN CHINA was held at John Marshall in Chicago on April 19, 2012, and brought together the leading voices on Sino-U.S. matters of IP law, patents, tech, innovation, and trade policy. In this important contribution, RIPL presents very current articles on China and Asia–essentially a new book on the subject by experts in this emerging field.
The rapid growth of China of recent years is unparalleled throughout the world. This growth presents itself as an alluring opportunity for U.S. businesses. As the two superpowers learn to work together, the intersection of the country's intellectual property rights continues to be a point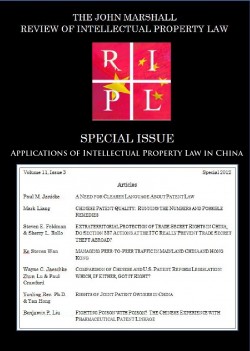 of contention. To move forward, U.S. businesses must learn about the applications on intellectual property laws and policies in China and in Asia generally. This collection is presented as a step forward in that important mission.
The John Marshall Review of Intellectual Property Law also offers two previous Special Issues in ebook formats in the IP Law Series, and in summer 2010 became the first law journal to present a current issue in such leading ebook formats. RIPL is edited by students at John Marshall School of Law in Chicago, with principal contributions by leading scholars and practitioners in the field. The ebook editions feature linked notes, active contents, working hyperlinks, and proper ebook and law review formatting and cites.
The volume is also useful and accessible to non-lawyers interested in these issues and the way they are affected by legal and policy decisions.
Available:
Amazon for Kindle.
Barnes & Noble for Nook.
Amazon UK store for Kindle users in UK.
And on Apple iTunes Bookstore. Look for it in iBooks by searching in the store/app on iPad and iPhone.
Also found at Google eBooks generally, and on app and Nexus at Google Play.
. . .
Cataloging:
ISBN 978-1-61027-930-7 (eBook)
ASIN B00821GPY4 (Kindle)
Record title at Bowker: Applications of Intellectual Property Law in China: RIPL's Special Issue 2012