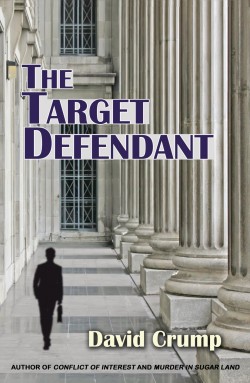 New from the author of CONFLICT OF INTEREST and MURDER IN SUGAR LAND: Law professor David Crump's latest courtroom drama features Houston trial lawyer Robert Herrick, in a case that risks it all.
Herrick is the lawyer for the little guy in Houston, Texas. His courtroom experiences have been realistically recounted in David Crump's previous novels, seen here and here. Now Herrick faces an international enemy of unbridled arrogance and ruthlessness: the drug kingpin El Jefe, whose petty grudge against a local reporter was expressed in a family bloodbath. Can a civil lawsuit against El Jefe's bank bring some measure of justice? And who's really to blame here, after all?
A mass murder wipes out three generations of a family, all hacked with machetes. It's a horrific crime, and obviously drug-related. But it's not possible that the perpetrators all live south of the border, because a drug enterprise needs partners in the United States for money laundering, financing, and transport.
The survivors want justice. Robert Herrick is their choice to get it. He tells them No, because no lawyer is trained to locate defendants who come and go like shadows—or to try lawsuits against drug lords in foreign countries. But circumstances and sympathies get the best of Herrick. He finds himself, quickly—and against the protests of his family—handling the strangest case of his life, drawn into a web of international intrigue that entangles him with the NSA, the Mexican Army, the courts of two nations, and hired assassins. All the while, he's attempting to focus on the usual parts of the legal process: pretrial papers, deposition questioning, jury selection, and trial. The mundane gears of law don't seem up to the task of bringing to justice drug lords and their enabling American banks.
Just when Herrick thinks the stakes can't get any higher, they do—and he realizes that he will have to fight with primitive energy if he wants to win this case . . . or if he wants to save his family from … THE TARGET DEFENDANT.
AVAILABLE in paperback at Amazon.com, our QP eStore (fulfilled by Amazon), Barnes & Noble, BooksAMillion, YBP Library Services, and other booksellers.
Also available in eBook editions:
Amazon for Kindle.
Barnes & Noble for Nook.
At Apple iBooks and iTunes bookstore (previewed online).
Available in universal ePUB digital format from Smashwords. And  in ePUB at Kobobooks.
Also at Google Play (for Nexus and similar devices), as with most of our titles. For example, Crump's earlier novels The Holding Company and Conflict of Interest are also  found at Google Play, as is his adaptation of The Aeneid. More generally, this new book is seen at Google Books here.
…
About the Author:
David Crump is a senior professor of law at the University of Houston and the author of numerous law textbooks as well as books of poetry, legal fiction, and a modern version of Virgil's Aeneid.
…
CATALOGING:
ISBN 978-1-61027-234-6 (pbk) (list price $16.99)
ISBN 978-1-61027-233-9 (ePUB) (list price $6.99)
ASIN B00JDJ0HS4 (Kindle) (list price $6.99)