Set in the tumultuous sixties, and published by Little, Brown in the eighties, this novel of a people's governor and a Southern newspaperman still resonates with the moral choices that only strong people face. John Logue's compelling fiction is available again, in a new digital edition. As Library Journal reviewed it, in its original release:
The governor is on his deathbed; a black woman tries to have her son, a Vietnam War casualty, buried in a white cemetery; a prominent doctor is found dead, an apparent suicide. It is January 1967, and Jack Harris has returned to Alabama, after a seven-year absence, to be editor of the Montgomery Courant. As he struggles with the news, trying to reconcile his principles with the segregationist policies of the newspaper and its publisher, Harris begins the process of reassimilation into the culture and good-ole-boy network of Southern politics. With cold precision, the author exposes Harris's compromises in selecting and writing the news, as well as the poverty, prejudice, and political corruption about which he writes. Nevertheless, there is a personal warmth to the characters which allows the reader to understand the individual while abhorring his actions. Recommended.
— Thomas L. Kilpatrick, Southern Illinois Univ. Lib., Carbondale (Copyright 1986 Reed Business Information, Inc.)
More views:
"John Logue's Boats Against the Current is a powerful, intriguing tale of the South in its recent time of troubles. Master storyteller that he is, Mr. Logue weaves a narrative of newspapering, politics, and violence that crackles with suspense, yet remains strongly insightful and true."
— Willie Morris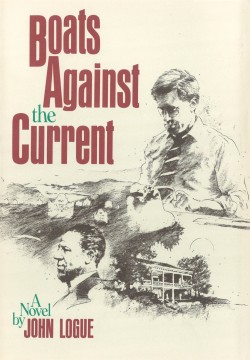 "This is the way novels ought to be written—plenty of plot, plenty of character development, plenty of action. I am not much on these deep psychological things. I want a helluva good story, and that's what you have here."
— James J. Kilpatrick
A new addition to the QP Books fiction series from Quid Pro Books.
Available in quality eBook formats:

Kindle edition, at Amazon.
NOOKBook, at Barnes & Noble.
At Google Play app, and more generally at Google Books.
At Apple iBooks and iTunes (search it direct on iPad and iPhone bookstores).
In universal ePUB format at Smashwords, and look for it at such ebookstores as Diesel and Kobobooks.
…
About the author:
JOHN LOGUE is the author of numerous books of mystery, life in the South, and sports. He has been a feature writer and executive editor of Southern Living magazine, a wire service reporter and sportswriter, and a finalist for the Edgar Award for best first novel. He lives with his wife Helen in Birmingham, Alabama. QP Books has republished three of his sports-themed murder mysteries, as linked here. (All of QP's 20+ titles in fiction are collected here.)
Cataloging, Boats Against the Current:
ISBN 978-1-61027-235-3 (ePUB)
ASIN B00JT3D4JS (Kindle)
list price $5.99
230 pp.