Tracy McCain is in for the battle of her life. A diagnosis of breast cancer; a treatment of surgery and chemo. Confronting challenge after challenge — to her health and to her faith — Tracy generously shared her journey with relatives and friends by posting regular entries to a website. Candid, revealing, and introspective, and even humorous at times, the posts became a personal record of this window into her courageous fight. Bridged by new explanatory notes and context, the journal posts became this book about the journey.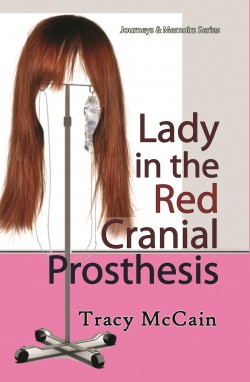 "I remember the day Tracy called and told me she had cancer. I was so shocked — of all people to get cancer. Tracy already had enough to deal with: she and her husband Rafe were already fighting a battle to keep life as normal as possible. When the CaringBridge journal was set up for Tracy, I thought this was a wonderful tool to keep up with her and the family's needs and to know how to pray for her and the family. Each day I would look forward to reading her posts and it became like a daily devotion for me. When you read this book, I know you will be encouraged in your faith too."
— Marilyn Carrell
Dallas, Texas
A new addition to the Journeys & Memoirs Series from QP Books.
PAPERBACK AVAILABLE at the Quid Pro order page for this book (fulfilled securely by Amazon), as well as such booksellers as Amazon.com (often discounted), Barnes & Noble, BooksAMillion.com, YBP Library Services, and Ingram catalog.
ALSO AVAILABLE in quality eBook formats:
Amazon for Kindle.
Barnes & Noble for Nook.
At Apple iBooks and iTunes bookstore. (See its preview online here.)
And at Google Play (in app on Nexus and similar devices, previewed here), and Google Books.
Also found in ePUB format at Smashwords and Kobobooks.
…
Cataloging: Lady in the Red Cranial Prosthesis: My Journal of Cancer and Faith, by Tracy McCain
ISBN 978-1-61027-327-5 (pbk.)
ISBN 978-1-61027-328-2 (eBook)

Page count: 160
US paperback price: $19.99

US ebook price: $7.99
Publication and availability date: November 18, 2015