Frank May practices law, but he gets by just doing the safe, bland kind—writing wills, forming partnerships, processing papers. Everything far from the seedy adventures of criminal law or detective work. But every lawyer knows: clients have a habit of taking you to places you don't want to be.
One of those clients is the estate of the late Harriet Wingate. Harriet had money, and that always makes for interested relatives. But a bizarre husband Harriet's junior, by a half-century? Two squabbling nieces? The suddenly revealed grandson? Worst of all, a litter of soon-to-be rich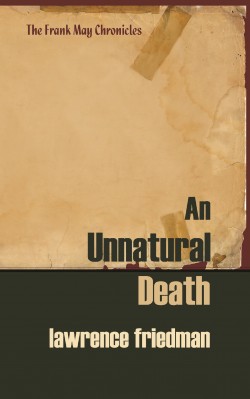 cats? Frank did not think she even had a cat.
Frank wrote Harriet's will, or so he thought. But more wills than he ever imagined keep popping up, including the notorious "cat will" and a torn, handwritten mystery will. Actually, they're all a mystery, just like Harriet's death.
The wills and the relatives, if not the cats, drag Frank into the world he had so carefully avoided in his practice. Now to probate the estate and resolve the conflicting wills, he may have to unravel a mystery or two. And even a second unnatural death. To do all that, he will have to use his head—and step far outside his comfort zone.
A QP Mystery, in the series of the Frank May Chronicles. Also in the series is Death of a Wannabe.
An Unnatural Death is available now in eight formats:
Paperback: At Amazon.com, at our QP estore for this book (fulfilled by Amazon), at B&N, and at other booksellers.
Kindle edition at Amazon.
Nook edition at Barnes & Noble.
At Apple iBooks and iTunes for iPad and iPhone (or use Kindle or Nook app). The Apple ebook is previewed online here.
At Google Play, for Nexus and the Play app.
Also in PDF, Sony format, ePub, and rtf at Smashwords.
Look for it also Google Play app, Diesel eBooks, and Kobo Books.
Cataloging:
ISBN: 9781610271325 (ePub)
ISBN: 9781610271318 (pbk)
About the author:
Professor of Law at Stanford University, Lawrence M. Friedman has written 31 acclaimed books of nonfiction on law, crime, and history. He has published four works of fiction as well. Also see his next Frank May novel: The Book Club Murder.